The 2019 NCAA Tournament was one of the most memorable tournaments, with Virginia capturing the title after being the first one seed to lose to a 16 seed the year before.  It is only fair that Virginia has my favorite set from the tournament with their elevator decoy set that was so impressive. In this breakdown, we will look at my favorite sets from the 2019 NCAA Tournament, just from what I watched and remembered. There will be sets that I miss, and concepts that you might like and enjoy more – please let me know what I missed! I watch a ton of basketball so I might have overlooked something and would love to include any that I missed in a future update or video breakdown.
2019 NCAA Tournament Best Sets

Virginia Elevator Decoy
By far my favorite and most popular set from this years 2019 NCAA Tournament comes from the champions, Virginia. Virginia ran a gorgeous set that looked like the normal Elevator set they run for Kyle Guy – which Auburn was clearly ready for. Auburn stopped the initial elevator action but this was just a decoy that set up a throwback screen for Jerome for a wide open 3. I love this action but the biggest lesson for me was how to combine two actions and run the one action over and over again and then hit the defense with a surprise counter out of a normal action you already run!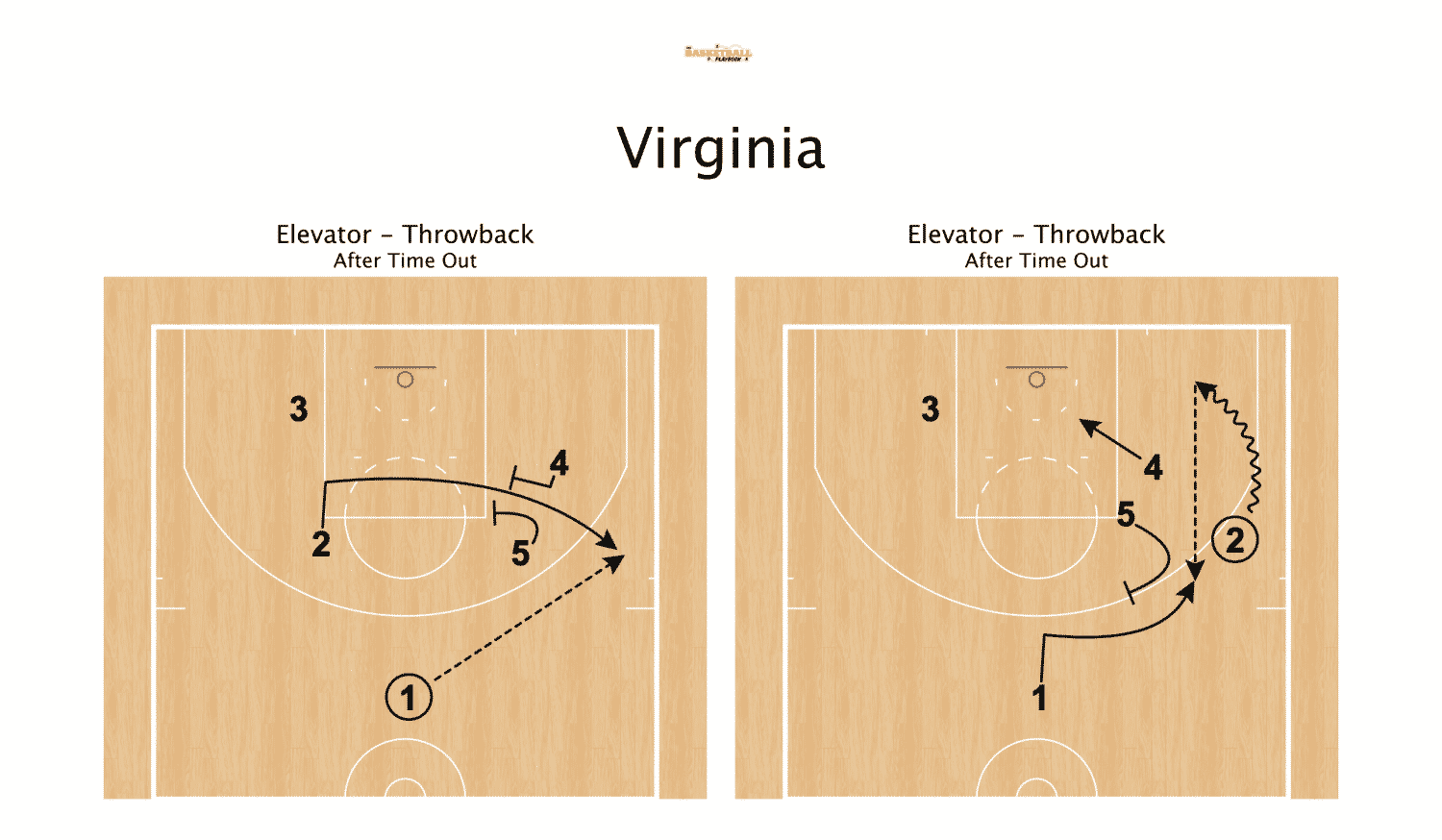 Belmont Backdoor Set
Belmont's Rick Byrd is one of the best coaches to ever coach the game and he will be missed since he announced his retirement. In my opinion he is the king of the backdoor set and that was clear with my biggest tweet of all time breaking down his "Panic Backdoor" set. Belmont ran a similar backdoor look but it is a little more basic with simple movement but still very effective. One of the keys in this backdoor set is the trigger which is the ball fake that sets up the backdoor for a layup. Another thought I have when looking at film like this is what triggers or signals can I include in my offense that is easy to teach and an automatic.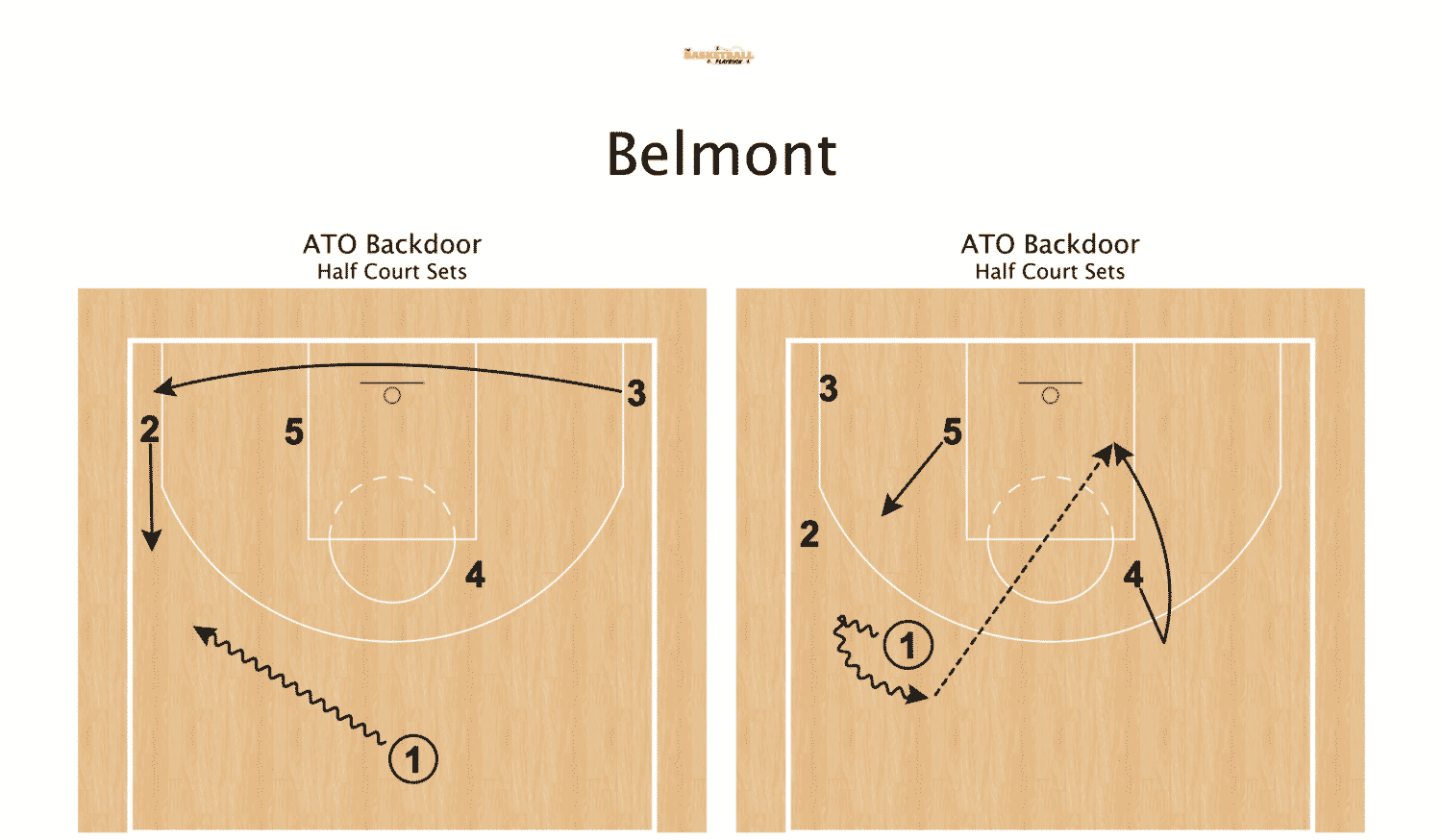 Ohio State Stagger Back
Chris Holtmann has been a favorite watch of mine since his days at Butler and his playbook is really good. My favorite set from him came out of a 5-out formation to a stagger throwback. The key to this set is to have the player coming off of the throwback screen starts low so his man is the help defender and it is a choice to chase his man or help the drive. This is a great lesson for all coaches – what are you doing offensively to ensure the defense has a choice to make in your flow or your sets?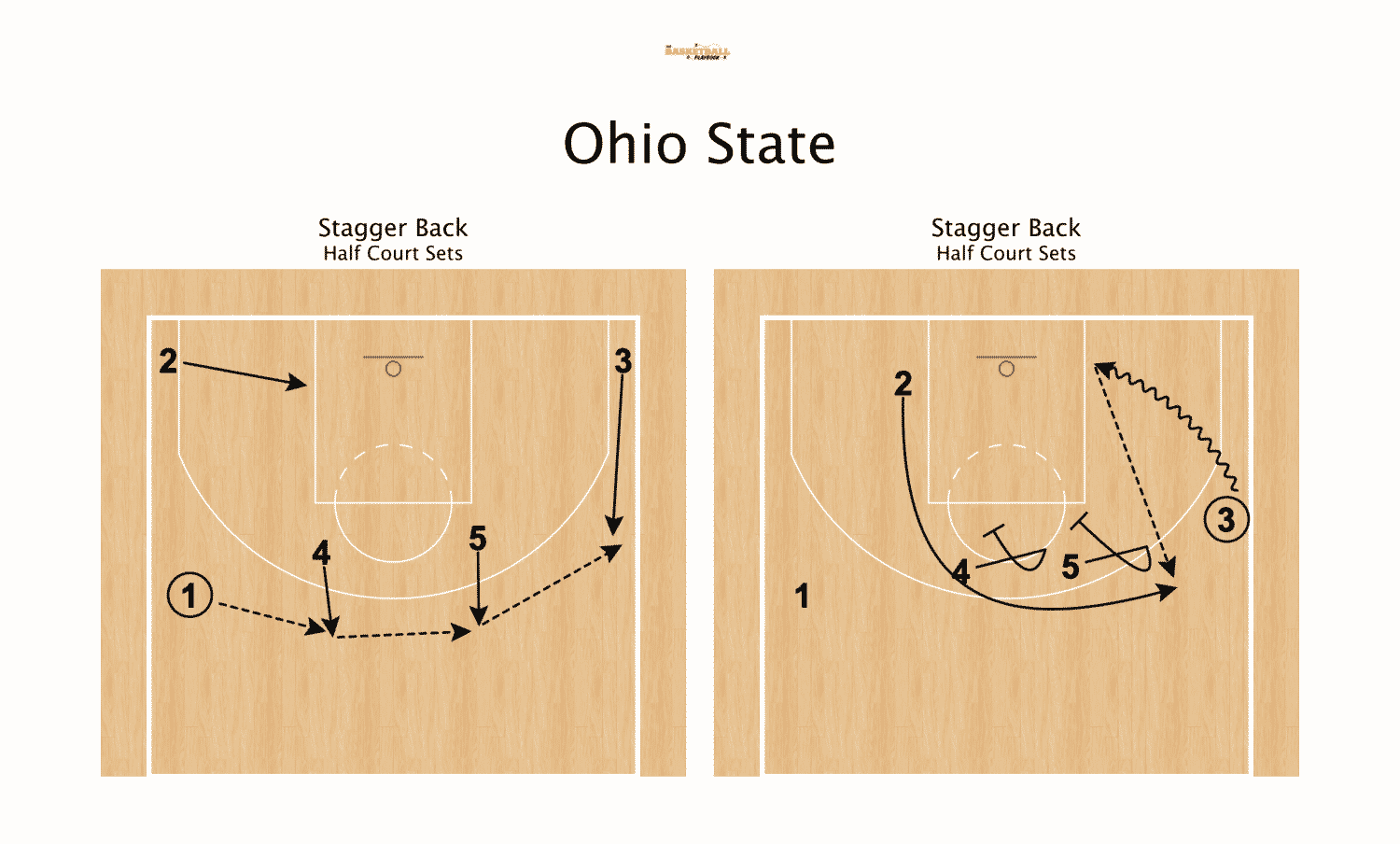 Virginia Tech Ghost
So much action and movement before a final "Ghost" screen (shoutout to Zak Boisvert for the name!). The set basically has 2-3 actions with hand offs and curls into a spread ballscreen but this is all decoy action. After the initial action happens the main look flows into a ghost screen angled toward half court for a pick and pop.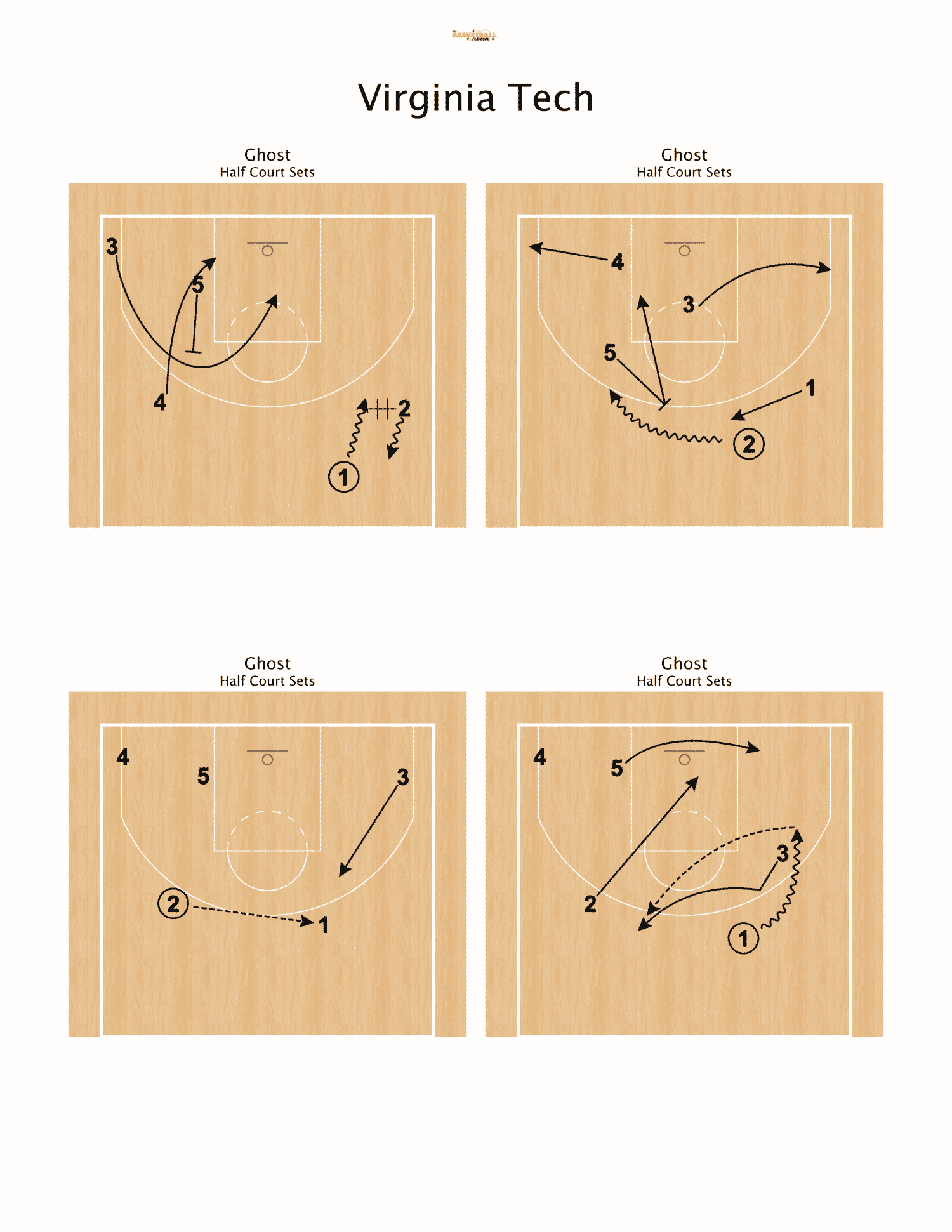 Wofford (& Others) Zone Reverse Fill
The most common NCAA Tournament set is a zone set that is a ballscreen with 2 players filling behind to create a 2 on 1 against a 2-3 zone. Wofford runs this action really well and the set is designed to get a side ballscreen against the zone, which is one of my favorite actions against any Zone Defense. As the ballscreen occurs two players fill on the wing behind the ballscreen creating a 2 on 1 situation and allows the players to either catch and shoot or make an extra pass. This is one of the best actions against a zone and something all coaches can apply in their zone offense.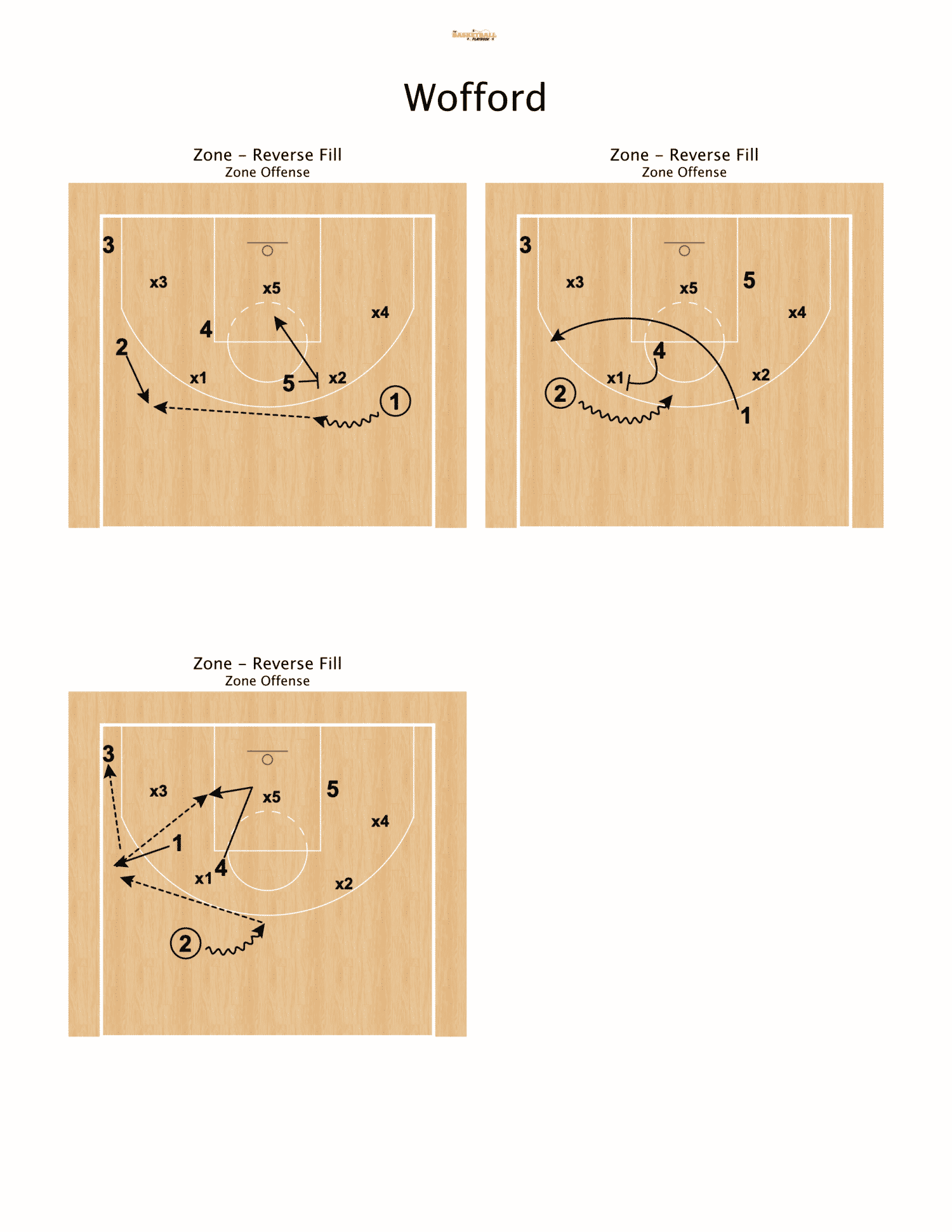 If you want more NCAA Tournament X's & O's the 2019 NCAA Tournament Playbook with over 850 sets & video playbooks for each team is available here:

If you enjoyed this breakdown or want more X's & O's, I have a new weekly breakdown that arrives in your inbox every Saturday morning!
Enjoy & have a great week!
Coach Pyper
https://thebasketballplaybook.com/wp-content/uploads/2019/04/NCAA-Top-Plays.jpg
388
1280
Gibson Pyper
https://thebasketballplaybook.com/wp-content/uploads/2018/08/the_basketball_playbook_1.png
Gibson Pyper
2019-04-27 11:39:49
2019-04-27 11:47:29
2019 NCAA Tournament Best Sets